October Halftime Thoughts
SNL is back, whoop whoop. I enjoy watching the open and then weekend update plus the band performances. Linkin Park released the "Hybrid Theory" box set which has tons of previously unreleased songs. I knew about every song already and some I even downloaded way back with Kazaa & Limewire. I was very big into making mix CDs all throughout my childhood on filesharing networks. I was blessed that my parents in Connecticut had a computer and would download songs all the time, every day was 5-10 more songs. It took about 20 minutes to get a song but after a while I learned how to directly download from the internet through the "right click, save as" option. I was extremely into forums online even back then like I am now.
I was administrator for 1 website and then owned another in high school, one called nellyplanet.net and the other called Purelyhiphop.com. I ended up getting the FBI contacting me to take down the zero-day music releases I shared on the website. I think what got my website in the more trouble than the other websites was that I had a graffiti forum on purelyhiphop.com; where people would share pictures of their tags and graffiti. I was only 14 when I started the website and was stupid. I built Purelyhiphop.com to have over 30,000 members and tons of daily traffic but never received one cent in return, I think I just like being able to control the forum and website. After I enlisted into the Marine Corps, I stopped being the admin for nellyplanet.net and had to end purelyhiphop.com. I just told all my members from Purelyhiphop.com to sign up to a new forum my friend in the United Kingdom started called Applyimage.co.uk. That website was way more professional then what I had because he was good with photoshop.
I don't have Television Programming here and just use internet, but I get information from multiple media outlets through their websites and what they release on YouTube. I don't think people take the time to realize what a programming station is trying to tell them. The worst outlets are the ones with freedom to use propaganda, like cable news outlets. If you think a cable news network is what truth is, then you have lost the game in this information age. Using only internet for your source of daily information is much better I think but It's a very different lifestyle without channels to surf. I basically read just the titles, "click bait" and decide if I'm going to give the time in that video my time or not. Most of the time I just need to read the title and I can tell if it's propaganda or something of value.
If you think Fox News or CNN are good sources, then you could try Associated Press or Reuters. If you must have some sensationalism, then the major three that it has always been in America can fill that fix. The major three in America are the 3 channels our parents grew up with when Television Programming started. American Broadcasting Company, Columbia Broadcasting System, & National Broadcasting Company will still give you a different viewpoint than what you may think; only if you think cable networks are more truth than theirs.
Onto music thoughts. What thoughts from the music are going into your mind? Thoughts to bring you down or lift you up? I listen to songs with good titles. I do not want to attract to into my life titles like "Fuck you, You Suck" but rather more of "I Love You, You're Doing Great". I hate to sound all positive, but it is your life, and the artists thoughts are subconsciously going to you from them.  For me this goes for every genre. People listen to Spotify for hours now, so much they know and let you know how much at the end of the year. Words are powerful, music even more with how it creates chants and flows of the words coming from that artist into your mind. Music is online now, no more CD's to buy because people are passing the aux cord in vehicles or hooking up through Bluetooth. There are tons of conscious artists in the music industry, the problem is that the music labels do not put much effort into the promotion because of they know it will not hit a broad audience. Labels still do promo for the album, but it does not blow like other catchy music that is sort of addicting to listen to. I feel music now days is all about attention, that is why Tiktok makes songs popular because you decide if you like the song in 15 seconds or not.
Tiktok is the best way to get your song in the mainstream, conscious music or not. Tiktok allows your music to become a short 15 second music video and if someone likes the video, your song spreads further to other users in the Tiktok algorithm. If you are an artist, pick the catchiest 15 seconds on that song you are uploading for others on Tiktok because that is what they'll have to use for their videos. If people want to make their own music videos of your song, then it is possibly a hit. Spotify collects more information about you than you may know. Data is important in society now days, and Spotify knows a lot about you from what music you are listening to and what music you are not. If you care about the lyrics or just the tempo, they know and will bring you more of what you want.  I assume Apple music and Tidal also collect the same type of information Spotify does, but I just use Spotify. I know a decent amount about coding and algorithms, especially how social media algorithms work, and Spotify connects to more of the internet you are using than you think. It is all based around what you type; keywords that decide what the algorithms gives you next if you are on using the shuffle option. If you listen on one song after the other it plays that next song but when the shuffle is activated, their algorithm starts. Spotify has a new playlist out called "Time Capsule" it updates a lot, more than the normal updated playlists on Spotify.
The two albums I am highlighting this week are Of Monsters & Men's "Fever Dream" plus Sa-roc's "The Sharecroppers Daughter". Of Monsters & Men have a new album coming out soon I think, so I thought I would highlight one of their albums to give an insight of what they sound like. Of Monsters & Men is an alternative rock band from Iceland, with a smooth and relaxing sound. Plus, the hip hop album highlight this blog is something positive rather than a former stripper rapping about sex; not that Cardi B is not amazing though. Sa-roc is an artist from Washington D.C, with great lyrics to nice beats. Songs with meaning, rather than some of the toxic the music industry promotes. This Sa-roc album has awesome song titles with amazing lyrics to match. I am newly exposed to Sa-roc, but this new "The Sharecropper's Daughter" is possibly one of the best albums all year so far. Spillage Village's new album is also good but not as powerful as Sa-roc's album I feel.
Rock Album Highlight:
Of Monsters & Men – Fever Dream
This band just vibes well with me and has since I first heard "Dirty Paws" off their first album. Their second album "Beneath the Skin" was awesome too. I listened to that a lot when I lived In Des Moines, Iowa and then this latest album "Fever Dream" continues the vibe with more mellow songs. The cover art for "Fever Dream" is refreshing also, the way it looks like a painting. "Fever Dream" is more pop/rock then how the band came with folk/rock sounding on their debut album. I think bands that stay in one lane do not keep a fan base if each album sounds the same; and Of Monsters & Men has released three different sounding albums so far. I am excited for a new album from Of Monsters & Men considering the new single called "Visitor" was released. "Sleepwalker" has probably the catchiest hook, but soft sounding for a song. Not completely sure why it is called "Fever Dream" or why there is just an eye on the front, but I am attracted to the vibes it brings. The one-word description for this album would be "Peaceful".
The 7 Song Album:
Alligator

Wars

Wild Roses

Sleepwalker

Vulture, Vulture

Rororo

Waiting For The Snow
Hip-Hop Album Highlight:
Sa-roc - The Sharecropper's Daughter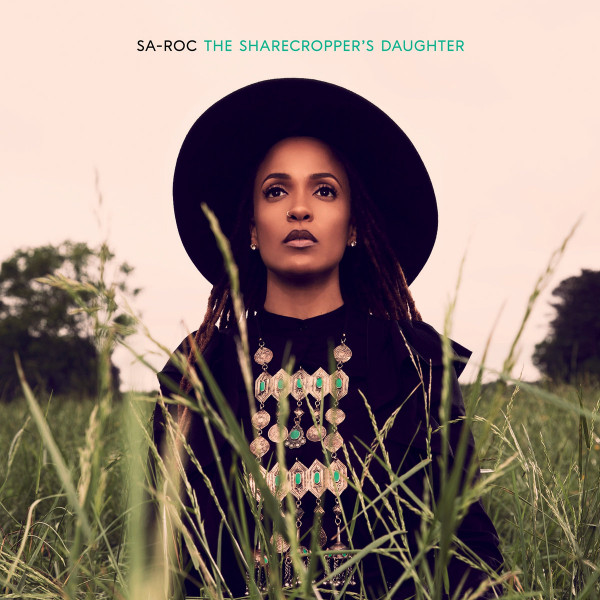 This album is a fresh breath of air considering the toxic stuff coming from major labels. Beats have replay value, and the flows are great. The lyrics are what attracted me to the album. My favorite track from the album is "r(E)volution" because of the lyrics on a nice beat plus the guitar sound. The songs on the album are not extremely radio friendly but still have catchy hooks and flows. Sa-roc seems to blend the flows and lyrics to the beat well. The guest appearances on the album are great picks, with a couple great verses from Black Thought. Styles P on "Rocwell's America" fits perfect. For a white dude who grew up in a Norman Rocwell type of setting sometimes, it hits harder for me. I think the most radio friendly song on the album is "Goddess Gang", which dropped a while ago but does not get old. The album seems well put together and genuine with a blunt type of vibe coming from it after listening for the first time. Plus, I just found out about her album titled "Journey of The Starseed" and the Tiktok algorithm keeps telling me I am a starseed, of Pleiadean. The one-word description for this album would be "Powerful".
The 7 Song Album:
Gold Leaf

Rockwell's America Ft. Styles p

Goddess Gang

The Black Renaissance Ft. Black Thought

r(E)volution

Lay It Down

Forever
 Songs of The Weeks:
Bebe Rexha – Last Hurrah

Dee-1, Lupe Fiasco, Big K.R.I.T – Against Us Remix

Apathy - The Widow's Son Ft. Ryu

Glass Animals – Heat Waves

Royce Da 5'9, Joyner Lucas, Black Thought, Aloe Blacc – Wrote My Way Out Remix

Coldplay - Major Minus

Mike Posner - Amen
Podcasts:
Lupe Fiasco & Royce Da 5'9 Podcast
Andy Mineo - The Work in Progress Podcast
The Dave Portnoy Show with Eddie & Co
Whitney Cummings Good For You Podcast
Video Of The Week: